Ham radio antenna and tower installation, repairs, maintenance. Based in central Delaware, will travel.
More than 40 years climbing experience on amateur radio towers, including Rohn (25, 45, 55, 65, SSV, BX/HBX and more), Trylon, US Tower and others. Small and large beams, receive and transmit arrays.
We also do over-the-air digital television (TV) antenna installation, upgrades and repair in central and southern Delaware and nearby.
Licensed, insured. Contact Jon P. Zaimes AA1K: aa1k@ARRL.net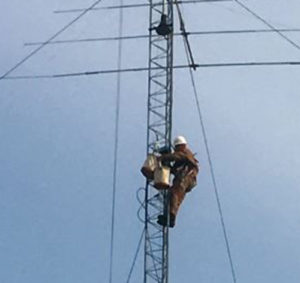 Yes, we do tower work all winter long. It was 18 degrees near Poughkeepsie, New York, when we repaired a switch box at 70 feet in December.
We were on another project in southern New York, in November 2017, when the temperature bottomed out around 15 degrees.
Fairer weather prevailed for most of this fall, and other recent projects have taken us to Arkansas, Virginia, Maryland, Pennsylvania and New Jersey.