160 meters, transmit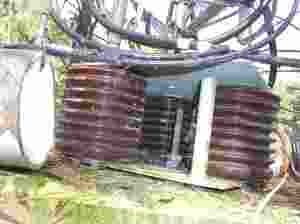 K3LR-inspired parasitic vertical array. Rohn 25 driven element, sits on insulators and series-fed through L network matching. Sloping T-shaped wire parasitic elements supported by rope catenaries, each spaced 66 feet from tower, are used as 3-element vertical yagi to give about 5 db gain and 25 db f/b in four selectable directions: NE, NW, SE, SW. Relays at base of each element ground parasitic wire for director, add coil to ground for reflector (resonates element just below 1800 kHz), or floats for omni pattern. 120 slightly buried quarter-wave radials under each element. Three elements active at one time; other two are left floating (above ground) and thus electrically invisible to the active elements. Additional wide-spaced second director element toward NE (Europe) adds about 1 db gain in that direction.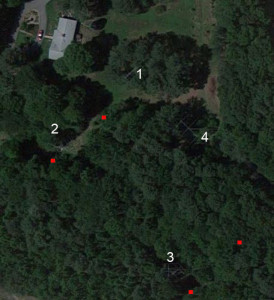 WW2Y-inspired broadside/endfire array. 325 feet broadside, 148 feet endfire spacing. Broadside pattern oriented northeast/southwest, soon to be switchable with about 8 db gain over a single element. One element is shared with the parasitic array (relay-switched between the two arrays) and other three are other T-shaped wires hung from loblolly pine trees and towers. About 73 feet vertical with 58 feet in the top-hat – resonant around 1930 kHz. Small coil at base to resonate around 1830 kHz. Initally the two rearward elements (bottom two red dots in photo at left) were simply tuned as parasitic reflectors until I get to the phasing to make switchable NE/SW.
80 meters
The "forgotten band" at AA1K.  Single inverted vee with apex at 95 feet. A 1/4 wave wire vertical also is used, hung from the K3LR array driven element and utilizing its extensive radial field. Under development: 8-circle transmit array that will be nested inside the 160-meter bs/ef TX array and share its massive radial field.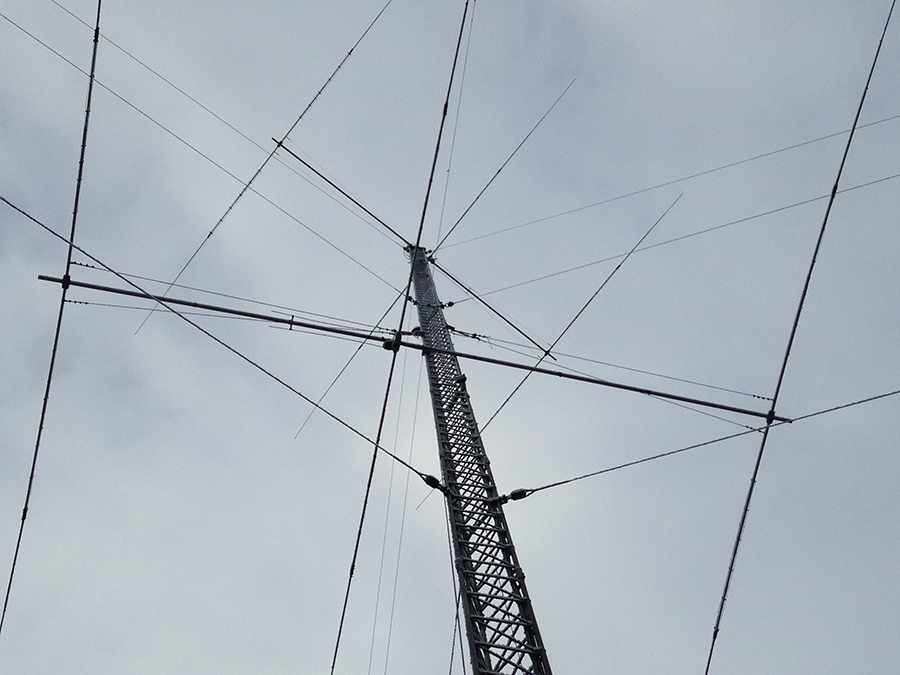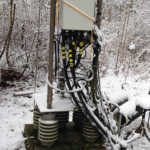 40 meters
Pair of stacked Hy-Gain Discoverer 7-3 (3-elements on 32-foot boom; linear-loaded elements) yagi antennas on Rohn 55 tower. Top rotates with T2X Tailtwister rotor; bottom fixed on Europe.
20 meters
Three stacked Hy-Gain 204BA yagis (4 elements on 26-foot boom) on Rohn 45 tower. Top rotates with T2X Tailtwister rotor; bottom two are fixed on Europe.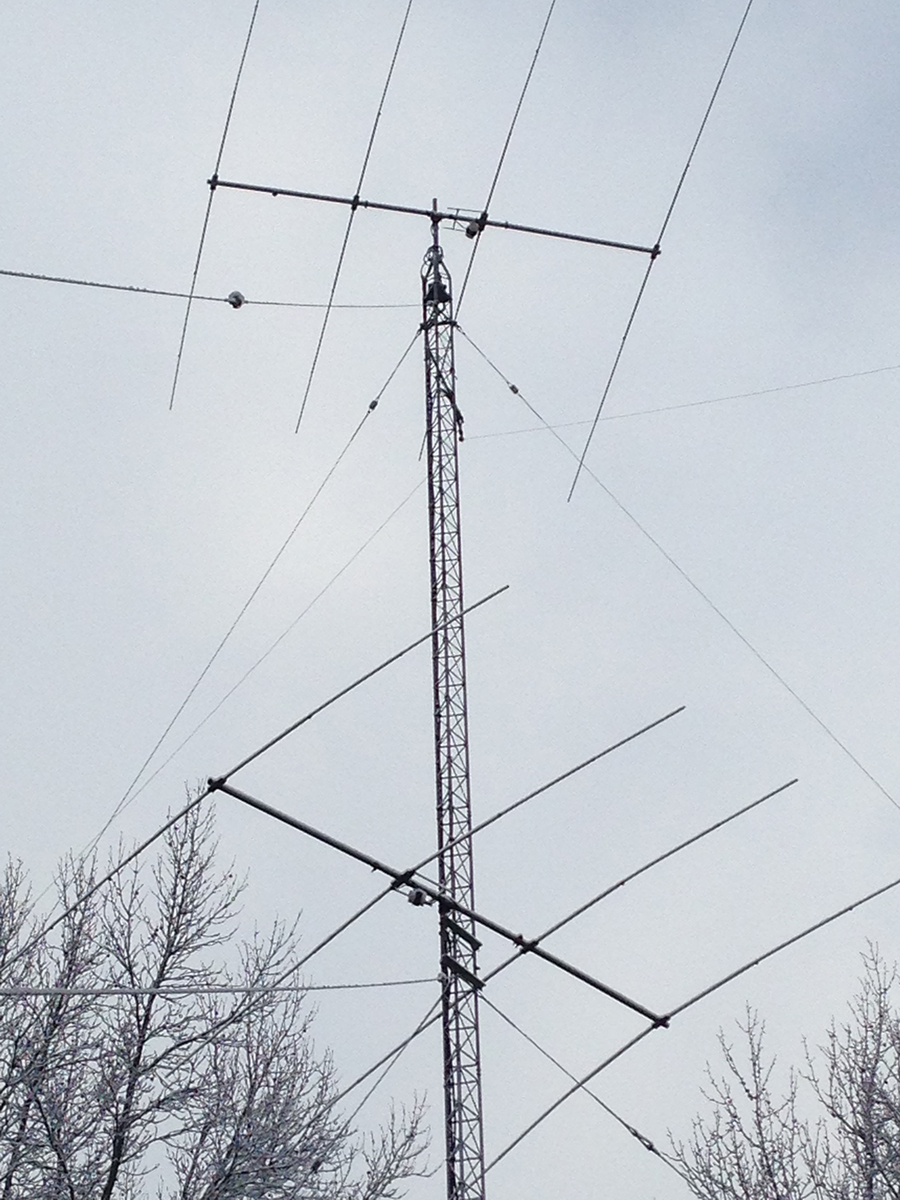 15 meters
Two stacked Wilson 415M yagis (4 elements on 17-foot boom) on Rohn 25 tower.  Top rotates with T2X Tailtwister rotor; bottom fixed on Europe.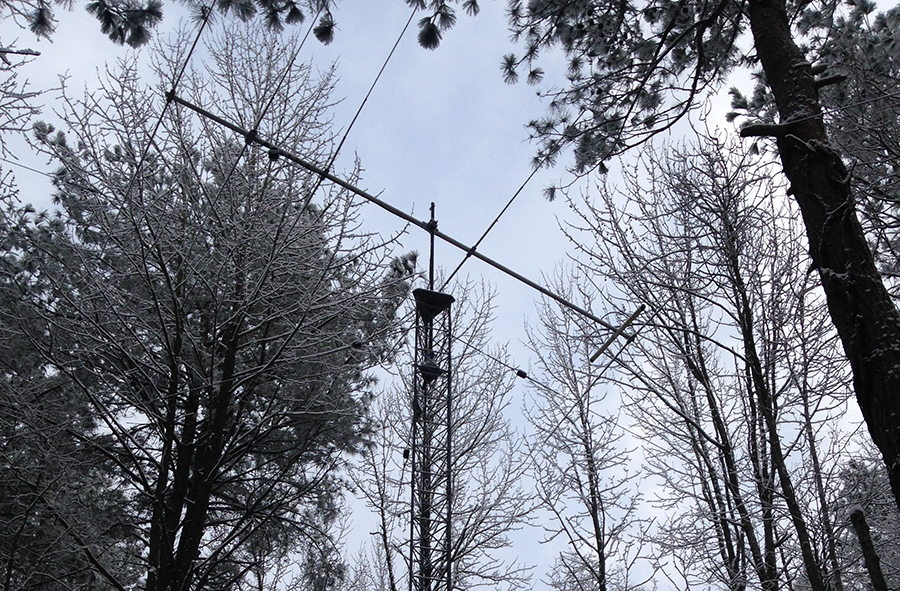 10 meters
Single modified Hy-Gain 105BA (W3XU design) at 100 feet; single modified Hy-Gain 105BA (ARRL Antenna Book optimized design) at 48 feet on separate tower. Antennas are 5 elements on 26-foot boom.
6 meters
Single 5-element yagi, 24-foot boom. Also serves as top loading for the 160-meter driven element (Tower 1).