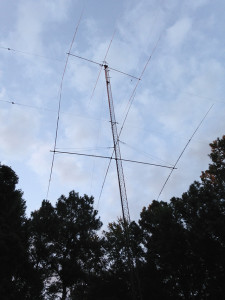 Tower climber for hire. Ham radio antenna and tower installation, repairs, maintenance. Fully insured. Contact Jon Zaimes AA1K: aa1k@ARRL.net
More than 40 years climbing experience, including Rohn, Trylon, US Tower and others. Small and large beams, receive and transmit arrays.
Fair weather has helped us make good progress this past year on some long simmering antenna projects.
We finally installed the low 40-meter beam at 60 feet on the Rohn 55, giving us a nice pair for this stack. These are Hy-Gain Discoverer 3-element beams. The lower is fixed on Europe. While the upper was constructed on the ground and raised on a catenary (with N3TTT help) several years ago, trees have consumed the ground space so the lower beam was assembled on the tower (single handedly by AA1K).
The small Rohn 45 tower will hold a 10-meter stack, with the upper already in place at 48 feet and the lower to be added soon at 24 feet. These are modified, optimized Hy-Gain 105BA beams.
I'm homebrewing switch boxes for both of these.
Finally getting some attention is the "forgotten band" here. That's 80 meters, which will soon have a broadside/endfire array of four verticals for transmit. It's long taken a back seat to my extensive buildup of 160-meter antennas.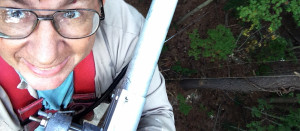 My first tower was a second-hand, rusty TV item we installed next to my family's garage in Allentown, Pennsylvania, around 1967. It later moved with us to Harrisburg, where I learned an early lesson about concrete and tower holes. As Dad and I were mixing the bags of concrete and filling the base hole, we reached a point where he asked for another bag. Despite our precise calculations based on the directions on the bag, or so it seemed, we had run out of mix with only two-thirds of the hole filled. So off we went to the home store for more.
Planning is always an essential part of any tower construction, and when Jeanie (AB1P) and Adam (now N3TTT) and I moved to our current QTH in late 1997, it was a ham's paradise, with 12 acres to play with. Initially we planned one or two towers, but ideas grew and now we are up to seven. If we were starting from scratch, I might do some things differently. Early plans called for a K3LR-style parasitic array for 160 meters. That worked quite well, adding an extra director toward Europe a few years after the initial installation. Then some plotting on the property map showed we could squeeze in an even bigger array — a broadside/endfire of T-shaped top-loaded verticals for 160 with a couple more DB forward gain than the original parasitic array. I achieved this by using some relays to "share" one of the original elements, hanging the others off existing towers and tall loblolly pines — and adding 120 radials on the ground at each of these elements. But if I were starting fresh on this, the elements would all be Rohn 25 towers, just for ease of maintenance.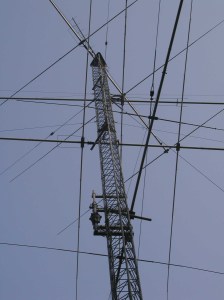 My towers are all scrounger specials. All were acquired used, often free for a take-down. But the tower itself is only half the cost — the guy wires, anchors and other hardware all add up. And the concrete is one item that's very hard to find used.
Survey maps of a property are essential for planning how things will be laid out. Google maps also is an extremely useful tool with reasonable accuracy. In Delaware, these maps show the property lines at certain scales, although the lineup in the satellite view is not always precise. Right-clicking will get the measurements tool, which I've found can be accurate within a few feet. A couple of my property corners are in woods, however, so I can't see the exact location. I have, however, placed some 4-inch PVC pipes marking these corners so next time the state does its aerial photography they may be more visible. Google compass is a good tool for finding bearings from any spot on  your property. On the ground, I use a hand-bearing compass purchased from a marine store. With the appropriate magnetic correction, I find this more accurate than using a cellphone GPS, though that can be helpful too.
In Connecticut, when Jeanie and I bought our first house on a small lot in Shelton in 1978, a small tribander went on a 10-foot tripod tower on the roof. The small cottage sat on a rock outcrop on a hill, and there was about a 200-foot drop to the Housatonic River toward Europe, so its effective height was considerable. We did extremely well with low power, and later, with Jeanie giving me 3 new sections as a birthday present, we added a 70-foot Rohn 25 which held our first Hy-Gain 204BA, purchased used for $50 and updated with stainless hardware. I learned about installing tower when the bedrock prevents digging the hole deeper than a few inches, let alone the required 4 feet.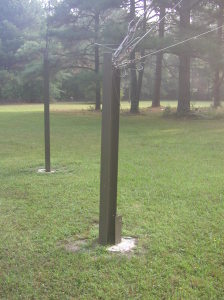 Moving to Delaware in 1981, we found a 1.3 acre property (with a house!) in the Glasgow area. No rocks in the ground here. The Rohn 25 grew by a few more sections to 100 feet, and a second one of 70 feet was soon scrounged for Tower 2 — on a line to Europe, with ropes between them holding a 3-element delta loop array for 80 meters and a similar 5-element delta loop for 40. Tower 1 held the 204BA and a new Wilson 4-element for 15 meters. Tower 2 held a homebrew 5-element for 10 meters. The old tri-bander from Connecticut sat on a short crank up about 20 feet tall. Later, 75 feet of Rohn 45 was added with  a 3-element, 40-meter KLM yagi on top. It played slightly better much of the time than the delta loops.
Another move, in 1991, put us in a more urban area of Delaware north of Wilmington. It was a massive 100-year-old house on 1.9 acres overlooking the Delaware River. The Rohn 45 moved with us and was bracketed to the house and also guyed, later being extended to 120 feet. It held the monobanders and supported wires for 160, 80 and 40.